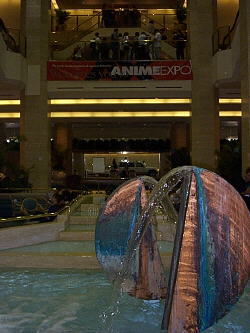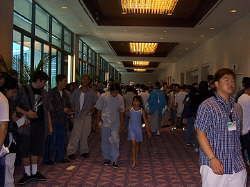 On the left is where we spent the day - the SPJA Anime Expo at the Anaheim Hilton/Convention Center. It's a neat hotel with huge rooms set up for viewing Anime. It was also VERY cold. About halfway through the day we had to go out to the car and get a blanket so we wouldn't freeze to death watching our favorite Anime.
On the right you can see the size of the crowds waiting in line today. The hall is a good 200 Yards long. The line goes up and back and then out the door behind us and around the fountain area, each side of which is easily as long as the hall. We saw people in line for 3+ hours at a time. And we thought we had it bad last night. HA. We did wait till much later in the afternoon when we walked right up to the desk to get tickets for Chase.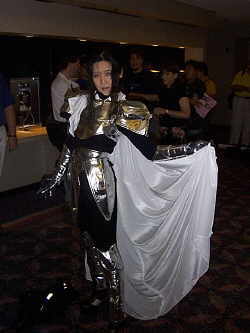 This is one of the many cool costumes that people wear. People who are really into Anime dress up like their favorite characters. Tomorrow there will be the "Masquerade" where all the costumed people will compete for prizes. We are going to try to get in, as seating is limited.
We took a bunch of pictures of people in costumes. Later on (when we have more time) we'll add them to the "pictures" section.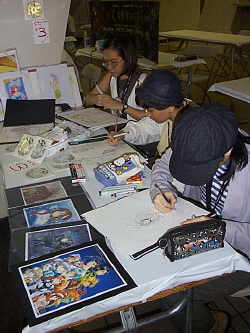 One of the cool things at the Expo is the "Artist Alley," near the dealer room (more about that tomorrow). There a a bunch of aspiring Anime and Magna (comic book but more adult) artists. You can buy some awesome sketches and paintings and posters of your favorite characters. There are even caricature artists who will sketch you as an Anime character.