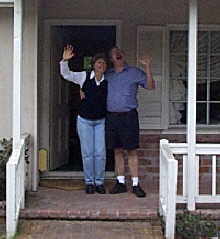 We rolled out into the chilly, overcast day at 7:40. Mom and dad were there to wave goodbye. Everything was packed and we had a good night sleep. Dodi drove the first leg of the journey down to the "Grapevine" where we ate at Dennys. Then Rex took over the driving 'till we got to Rex's Grandmother's house in Costa Mesa.
The picture you do not see here is a bleak one. After dinner we went to the Convention Center to get tickets for Friday, Saturday and Sunday. We arrived at 8:30pm - We left at 12:30 am. The intervening time was spent moving at a crawl through one of the longest lines Rex or Dodi has ever had the displeasure of being stuck in. Blech. At about 11:00 Dodi faded out and went to sleep the the car, leaving Rex holding the place. Without his book he would have gone insane.

There are two upshots to this bit.

1) We don't have any more line waiting to do for the next three days.
2) We will ALWAYS have the camera with us in the future.