We are loaded for bear this trip. We bought a 300 Watt inverter (Gives us "wall power" from a car battery) so we can run our all our stuff. We have Clockwise: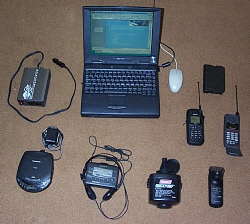 Inverter
Laptop (233Mhz, 64MB, 5GB, Cellular Modem)
Spare Battery
Cell Phones
Electric Razor
Bed Inflater
Walkman
CD Player
Digital Camera (Not pictured (guess why))
We plan on using the inverter when we're on the run and an extension cord whenever we're at a campground or hotel.